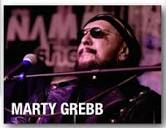 Marty Grebb Benefit: The Canyon Club The night before Last Night - the 27th.

Truly a once in lifetime experience. The show started with legendary songwriter, pianist and studio musician Marty Grebb playing with a
group of friends. The 3 hour show featured a long list of the musically gifted including appearances by Bonnie Raitt,
Leon Russell, Ivan Neville and Dennis Tufano to name just a few. More than a Jam session - for 3 hours you watched some of the best musicians in the business play for their buddy Marty and others in the Music Industry.
Incredible night of musicianship.
Cormac & Wailani